manicure - pedicure accessories by VITRY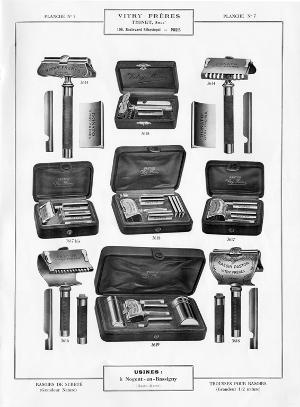 Founded in 1795
1907 : Vitry was bought by the Thinet company, founded in 1856 and famous for being the company which invented disposable razor blades.(picture on the left)
1954 : Vitry is pioneer by putting the first manicure-pedicure accessories in pharmacies.
1995 : Victim of its own success, Vitry won many awards, highlighting the quality and originality of its products.
Manufacturer and distributor - Vitry is specialized in manicure and pedicure accessories and offers a "lifetime guarantee" to products such as tweezers in stainless steel, nail scissors in stainless steel and nail clippers in stainless steel.
our source: www.vitry.com-history
1996 : "Printemps de la beauté

et des grands magasins" award

2004 : "Victoire de la Beauté" award for the manicure set

2003 : Award for the best "nail file" by the American magazine Allure

2005 : "Victoire de la Beauté" award for the launch of the hand cream