PHARMACY TSAKALOU SP. ANASTASIA
pharmacist's point of view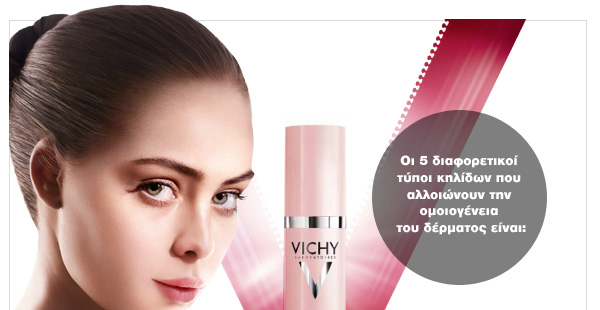 Correct and perfect your skin with the Vichy Idealia Pro Dark Spot Corrector
The complexion is more radiant thanks to a DRM-Bright Complex made up of Vitamin Cg, Procysteine and Eperuline, which protects the skin's fibroblasts from oxidation and inflammation. The skin is further perfected with natural Kombucha from Ceylon black tea concentrated at 3%, which refines and promotes vitality, and LHA which gently exfoliates dead skin cells.
NUTRI-REPARATEUR Nutrition and Mask Repair
This powerful reconstruction-mask with low silicon and 4 cosmetic active ingredients with complementary properties, ensures maximum nutrition, gives softness to the hair and facilitates combing.Nourishes and restructures dry / damaged hair .
Deep Cleansing Gel with Salicylic Acid, Totarol, a new purifying ingredient, and Eperuline to regulate inflammations. Cleanses and unblocks pores deep down and immediately soothes skin.
Deep Cleansing Gel: Cleanses and unblocks pores deep down and immediately soothes skin.Triple Action Anti-Acne Hydrating Lotion: Oil-free hydration clinically proved to fight the cycle of acne imperfections; helps prevent new blemishes from forming, controls oils, provides 24Hr hydration. Skin feels soft and smooth
Daily exfoliating cleansing gel containing Salicylic Acid and smoothing micro-particles. Gentle enough to be used on a daily basis.
Everyone needs some sun to help keep their bodies healthy, but overexposure to UV can lead to sunburn, premature ageing and skin cancer. The most important thing you can do to protect your skin is to make sure you don't burn.
You can protect your eyes and skin by spending time in the shade when the sun is at its strongest (between 11am and 3pm in the UK), covering up with clothes, sunglasses and a hat, and applying sunscreen to exposed skin.
•Use sunscreen with a sun protection factor (SPF) of 15 or more.
•Choose a sunscreen labelled "broad spectrum", which means it protects against both UVA and UVB rays
•Re-apply sunscreen regularly (at least every two hours) as it can come off through washing, rubbing or sweating.
•Re-apply sunscreen after going in the water, even if it's labelled waterproof.
•Use sunscreen along with clothing and staying in the shade to avoid getting caught out by sunburn.
For up to 24 hours, skin is intensely hydrated with moisture, feels soothed and comfortable, visibly fortified, with increased radiance.Non-greasy. Non-sticky.
Allergy tested.
Citrus Polyphenol™, powerful antioxidant that protects skin's stem cells.Clinically proven results after 2 weeks of use: Smoother skin, more luminous skin, more even complexion
Innovation of Vichy! Enriched with active concentration Kompoucha tea. Care, shine and polish. Homogeneous appearance, uniform color with no wrinkles.
Suitable for all ages.
A miracle of nature, naturally rich with 15 regenerating minerals + antioxidants, essential to skin's health. Soothes + reinforces skin's natural barrier function. Its antioxidant properties help the skin fight the signs of aging
To Biotique-B8 stimulates cell renewal and stimulates the production of beta-Defensines, which form the skin's natural defenses ,sugars increase the ability of cells to deal with external attacks. Cells full health for longer.


LiftActiv Serum 10, Vichy's breakthrough anti-aging formula features a 10% concentration of Rhamnose, a naturally derived plant sugar proven to boost skin rejuvenation. Improving collagen & elastin production while also increasing cellular turnover. With just a single drop, your skin is instantly transformed; wrinkles and pores are visibly reduced. Your skin is lifted while your complexion is smoothed and more radiant. After 1 month, LiftActiv Serum 10 delivers our most dramatic improvement on the 4 main types of facial wrinkles: crow's feet, brow line wrinkles, laugh lines and neck wrinkles.